Last summer, my husband, stepdaughter, and I traveled to Greece for two whole weeks.  In Greece, we planned on staying in an apartment in Ilioupoli (a suburb of Athens) for a few days, taking a ferry to an island called Marmari, taking the ferry back over to Athens, flying to Santorini, and then staying in Athens again to tour the Acropolis. Whew! With so many transfers and forms of transport, we decided we would each only take a carry-on.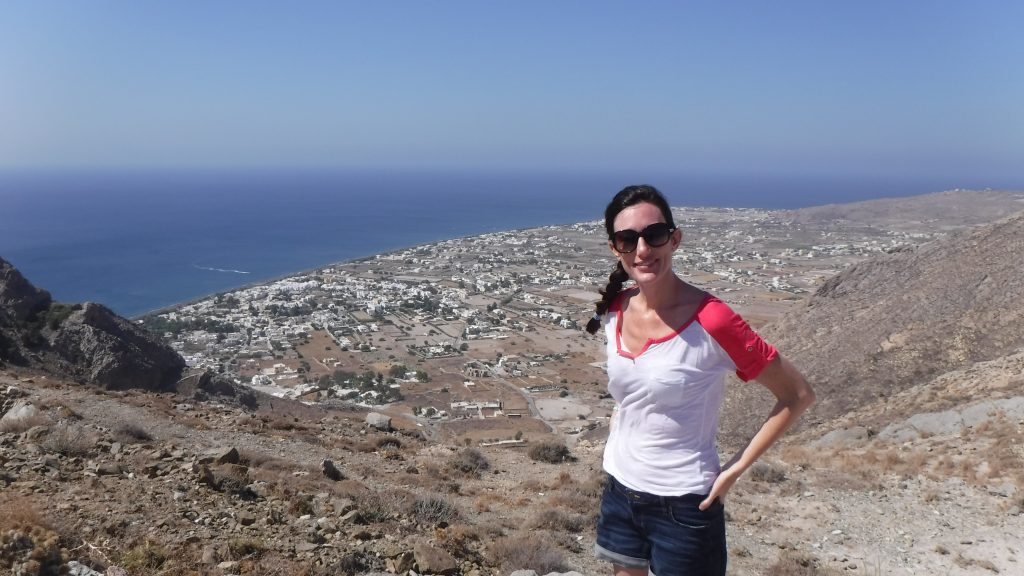 Since we were traveling through Europe, where the baggage requirements are typically more restrictive, we packed our carry-ons and then weighed them on our bathroom scale.  It was a painstaking process because the carry-ons were too heavy. We had to decide which item we didn't really need, take it out, and weigh our bags again.
The ironic thing is that the airlines never weighed our bags or checked the dimensions. Of course, if we HADN'T spent so much time weighing them, we might have been stuck with a hefty baggage fee, so I would still recommend weighing them to be on the safe side. On this trip, I learned some essential travel tips that you can use for your upcoming family vacation.
Travel with a carry-on only. Having a small suitcase is so much more convenient for traveling! You don't have to wait at the baggage claim carousel and it's much easier to lift a smaller bag. (Especially if you're traveling with your whole family!) Remember that you can bring a personal item, such as a purse or briefcase, in addition to your carry-on suitcase.
Bring a bottle of water. Empty it out before you go through security. When you're walking to your gate, you should see plenty of water fountains. A lot of airports have installed bottle refilling stations, too, which makes it even easier to fill up your water bottle! Don't spend $4 on a bottle of water when you can fill your own.
Invest in a small cross-body purse. Do you really want to lug your regular purse around? And do you absolutely need all of those "essentials" in your purse? Probably not! So take out the few things from your regular purse that you will need on vacation, put them in your cross-body purse, and leave everything else at home.  Bonus: you can put your cross-body purse in your "personal item" that you're allowed to bring on the airplane.
Pack an eye mask, ear plugs, and ear buds. Each family member should have these three items. Noisy children or barking dogs on the flight? Put in your ear plugs! Want to watch a movie? You'll need ear buds. Don't be that annoying person who watches their movie on the plane without ear buds and forces everyone around them to listen.
Bring an arsenal of snacks! This is a must. Bring plenty of snacks to stave off hunger while you're waiting at the airport or while on the plane.
Carry small bills for tips. Don't get caught without any tip money for shuttle drivers!
Bring an inflatable travel pillow and wear layers. The plane can be chilly, and it'll be hard to take a nap if you're shivering.
Preparation is key! If you and your family have everything you need, you won't be dealing with grumpy children (or adults!)  You can just relax and enjoy your vacation.  Have other travel tips? Share them in the comments!
Comments
comments