"Marriage is a mosaic you build with your spouse. Millions of tiny moments that create your love story." -Jennifer Smith
Although 90 percent of people get married, only four in ten will find lasting love, according to Ty Tashiro, social scientist and author of The Science of Happily Ever After. Relationships fail due to many different reasons, such as incompatibility, infidelity, and lack of communication, just to name a few. We all know that relationships take work – we need to invest time and energy into relationships that we want to last.
Stepcouples: The Foundation of the Stepfamily
While all relationships take effort, stepcouples face a unique set of challenges, such as demanding ex-spouses and expensive court battles, which are additional stressors to the couple's relationship. For stepfamilies, the stepcouple's relationship is the most critical relationship in the stepfamily because it provides the foundation for the stepfamily. Without a strong foundation, the stepfamily bonds will be shaky and unstable. And if it weren't for this relationship, you wouldn't be part of a stepfamily. That's why it's important to nurture this relationship and put it first. The stronger your relationship with your partner is, the stronger your stepfamily as a whole can be.
Model a Healthy Marriage
Another important reason for prioritizing your marriage is that you can provide a good model of what a healthy, loving relationship looks like for your stepchildren. These days, children are spending a majority of their time online or watching TV, and the media is shaping their beliefs about relationships. Teenagers even use these TV shows or movies as guidance in romantic relationships.
In fact, according to one study of time use among more than 10,000 eight- to eighteen-year-olds, cited in The Science of Happily Ever After, researchers for Kaiser hospitals found that these young people spent 45 percent of their waking hours interacting with electronic devices, such as tablets and phones. That's more time than they spent in school, which came in at 30 percent!
Even though young people are spending a lot of time online, they also notice what's happening in their household. That's where you and spouse come in – you are role models for what a healthy marriage should look like. Not a perfect marriage, which is an unrealistic expectation, but one in which you love, trust, communicate, overcome conflict, and build each other up. One in which you lay the groundwork for enduring love.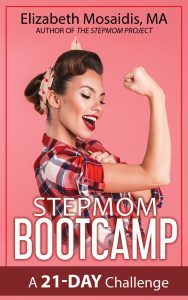 Invest in Your Marriage
To find out more about how you can strengthen your marriage, commit to doing the work in Stepmom Bootcamp: A 21-Day Challenge. Stepmom Bootcamp has daily challenges to help you transform your stepmom life. In fact, Day 15 will give you two challenges to strengthen your relationship with your spouse. You can get your copy here.
Reference
Tashiro, T. (2021). The science of happily ever after: what really matters in the search for true love. Hanover Square Press.
Comments
comments