Mother's Day is coming up, and while this is a beautiful day, it can also be a difficult day for many different reasons. If you've lost your mother, or if you can't become a mother, it may be a day of heartache for you. As a stepmom, your family might not recognize you at all, whether they forget or choose to ignore you. You might not even want to celebrate because you have a strained relationship. With this in mind, here are four ways to enjoy Mother's Day as a stepmom.
1. Focus on your own mother or someone in your life who is a mom-like figure.
Make plans to spend Mother's Day with your mom, whether it's having brunch, visiting a garden, or going out for ice cream. This year, I'm planning on going to a special tea with my mom. If you live far away from your mom, find another way to celebrate her. One year, I got a book called Letters to My Mom, which has 12 letters inside with different prompts. Each day, I would write one or two letters to my mom. It brought up so many good memories as I was writing in it! If you have lost your mom, you can still write letters to her. Thinking of those special memories will help you in your grieving process. Or you can write letters or work on a project for another important woman in your life, such as your favorite aunt or your sister.
2. Communicate your wishes to your partner.
If you have younger stepchildren, don't expect your stepchildren to make a card or get a gift for you. Instead, let your partner know how you would like to celebrate, and what you would like them to do. Your partner should set an example and lead the children. When I first got married, I thought I shouldn't have to tell my husband what to do for me. He should just know, and he should do it. Of course, when he didn't do what I wanted, I felt disappointed. I soon realized that I had set unrealistic expectations. Both of us were much happier when I told him, "Get flowers and a cupcake for me. I would also like a card and please have everyone sign it."
3. Celebrate being a Dog Mom or a Cat Mom.
National Dog Mom's Day is May 13th this year, so if you prefer to celebrate being a Dog Mom, do that! Being a dog mom has helped me in my stepmom role, so I take advantage of any opportunity to celebrate. Full disclosure: I always tell my husband to buy a card for me from our pets. Last year I may have picked the card out for myself and told my husband to give to me on Mother's Day. There are no rules, so celebrate in whatever way makes you feel comfortable.
4. Celebrate on Stepmother's Day
Stepmother's Day, established in 2000 by nine-year-old Lizzie Capuzzi who wanted to celebrate her stepmom, is the Sunday after Mother's Day. Some stepmoms choose to celebrate with their families on this day and have their own special traditions.
Above all, whether you know it or not, what you do as a stepmom makes a difference. Normally, I have a Mother's Day project where I make and send cards to stepmoms. However, this year I decided to do things differently. You can enjoy some of the images from previous years below. If you'd like some extra support in your stepmom role, treat yourself to Stepmom Bootcamp: A 21-Day Challenge or a subscription to StepMom Magazine. However you decide to celebrate Mother's Day, I hope you know how special you are.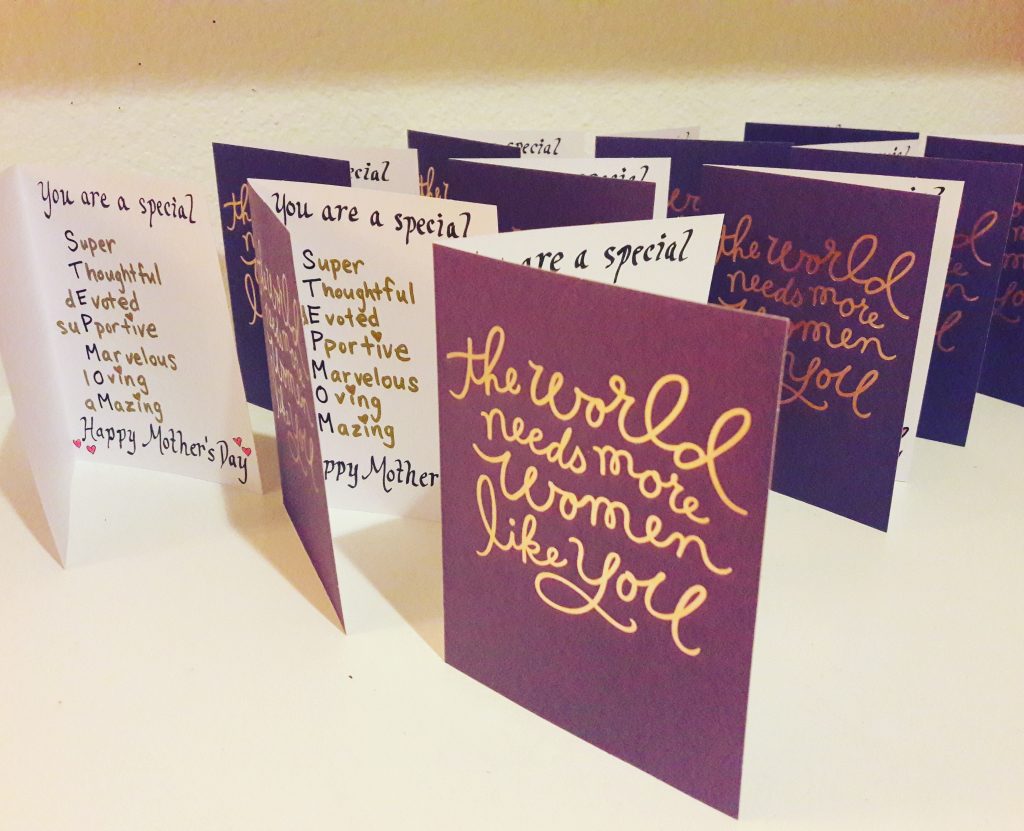 Comments
comments